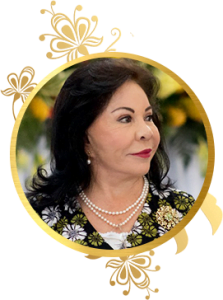 Profile
Maria Luisa Piraquive was born on February 10th in Chipata, a town in the department of Santander, Colombia. Her parents, Obdulio and Maria, had a family of 10 children: six girls and four boys. Maria Luisa was their third child.
She was raised in a humble and modest home surrounded by nature in the municipality of Sachica, Boyacá. From an early age, she showed her love for animals and landscapes; learned to lead a joyful life contemplating God's work and His perfection and longing to have direct communication with the Creator.
Though financial hardships surrounded her, they did not prevent her from leading a happy life. She explored everything in her path, enjoying the colors, images, smells, and sounds that were all around her. She discovered that she enjoyed music and had a talent for it. She would sing at the top of her lungs the 'ranchera' songs that were popular back then, astonishing the field workers that heard her. She inherited this interest in music from her father who loved music and played the guitar and accordion.
Love for the Things of God
Since her childhood, she was very curious about everything relating to God. While playing, she would call to God and ask Him questions hoping that He would answer her. She would ask, "God, where are You?" Hoping to see signs in the sky through which He would say something to her. Dr. Maria Luisa narrates in her book "Experiences" that she had the following dream when she was 7 years old:
"I DREAMED THAT IT WAS THE END OF THE WORLD AND THE LORD JESUS CHRIST WAS SEPARATING SOULS FOR HEAVEN AND SOULS FOR HELL. THERE WERE CORPSES PILED INTO TWO HEAPS, AND I WAS NEXT TO THE LORD OBSERVING WHAT HE WAS DOING. SUDDENLY, HE APPROACHED ME AND SAID TO ME, 'HELP ME CHOOSE THE SOULS FOR THE KINGDOM.' I ANSWERED, 'I WILL, LORD, BUT WHEN I DIE, YOU WILL TAKE ME TO HEAVEN.' THE LORD DIDN'T ANSWER ME WITH WORDS, BUT NODDED INSTEAD. THEN, I BEGAN TO CHOOSE ALL THE SOULS FOR HEAVEN, AND NONE FOR HELL."
She woke up surprised by this dream and didn't forget it until she attended an evangelical church for the first time in 1965, and shared the dream with an elder of that congregation who interpreted the dream as a calling from God. In other words, the dream meant that the Almighty had predestined her to serve Him.
The Early Stages of Her Spiritual Life
At the age of 16, she met Luis Eduardo Moreno who was a preacher in a Pentecostal church at that time. They were married on September 16, 1966. From that moment, she decided to take greater interest in the Lord's perfect work and learn all about it. She began to read the Bible from beginning to end, again and again, with the purpose of inquiring and discovering the truth, given that she was not someone to accept things at face value and wanted to understand the Doctrine on her own. Her husband helped her often and explained many aspects of the Bible. As a result, the Gospel became the focal point of her life.
Through her continuous reflection and study of the Scriptures, she learned about the work of the Holy Spirit in theory, thus sensing the need to seek and receive the spiritual gifts. She fell deeply in love with God and converted to His truth, surrendering her heart to Him. In 1969, she made the decision to be water baptized. 
Dr. Maria Luisa was trained in music theory, as well as to read music and play instruments, encouraged by her husband, Luis Eduardo, who bought her an accordion and hired a teacher from the music conservatory. She took lessons at home for two and a half months. To her husband, she was the ideal companion. With her support and patience their spiritual lives were greatly transformed; they studied and deepened their knowledge of the Scriptures together, exploring the biblical writings in pursuit of answers, seeking to imitate the man who purchased the field after having found the precious hidden treasures of truth.
Thus, the Bible became the focal point of her life, upon which she reflected continuously. Her study of the Scriptures led her to inquire about the role of the Holy Spirit and learn about the importance of seeking and receiving spiritual gifts. In 1972, along with her husband and four others, the Christian congregation "Church of God Ministry of Jesus Christ International" was founded upon the tenets of the Bible. Initially, the Church was led by Luis Eduardo Moreno—a living example of love and unconditional devotion to the Lord's work—who handled all Church-related affairs on a national and international levels.
After her husband's passing in 1996, Dr. Maria Luisa became the only woman in the world to lead a church originated in Colombia that also has locations worldwide with extraordinary reach and growth as demonstrated by its 850 physical locations in 45 countries. Her Bible Studies, which are recorded live and broadcasted in numerous languages, have changed the way people all throughout the world feel, think, and act.
Her diverse social and educational activities supporting vulnerable communities nationally and internationally serve as proof of her effective leadership. Her exemplary work is the reason why she has been awarded multiple honorary titles, degrees, and acknowledgements, which include:
Medals, Accolades, and Awards Granted by Government Entities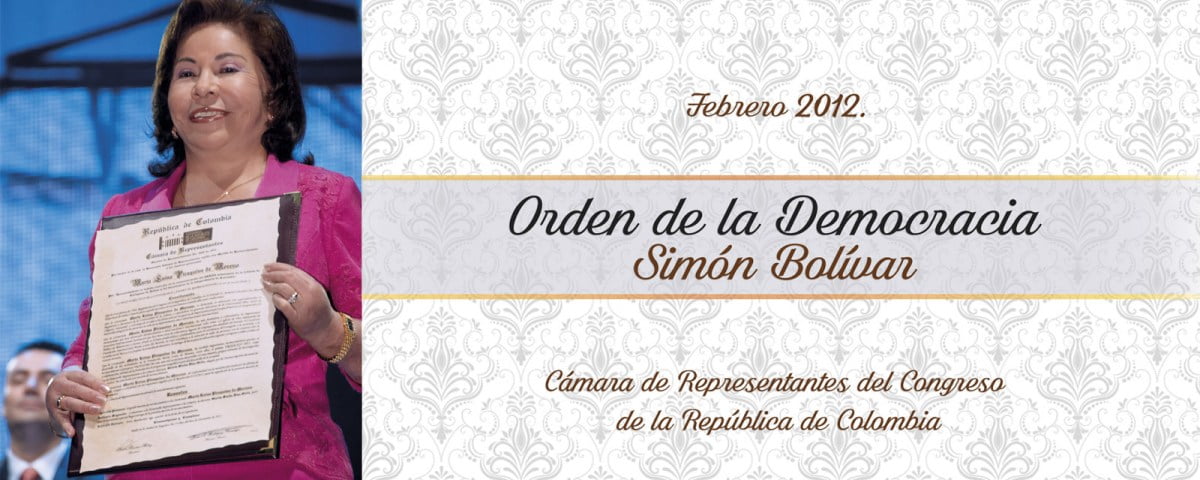 (1) Recognition of Merit "The Order of Democracy Simon Bolivar" granted by the House of Representatives of the Republic of Colombia to Dr. Maria Luisa Piraquive for her actions, projects, contributions and achievements to benefit society in general on a national and international levels. February 2012.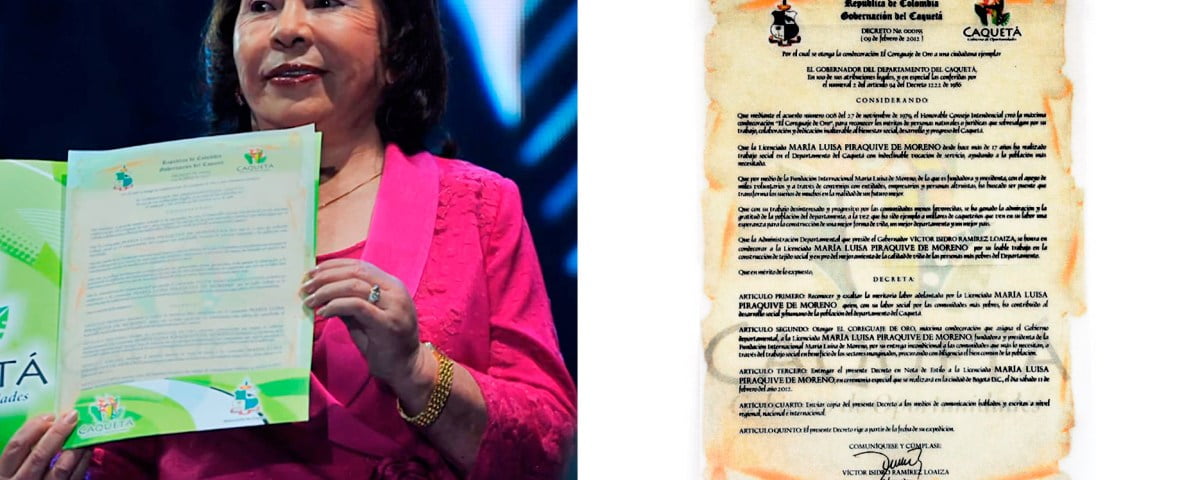 (2) Award "Golden Coreguaje to an Exemplary Citizen" granted by the government of the department of Caqueta, Colombia, in recognition of Dr. Maria Luisa's work which transcends borders delivering aid and assistance to thousands of people living in vulnerable conditions nationally and internationally. February 2012.
History of Medals, Accolades and Acknowledgements by Year
Honorary Titles, Degrees and Other Academic Awards